Women Build
Welcome to Women Build 2020!
GROUNDBREAKING CEREMONY HELD 10/10/2020! PLEASE E-MAIL LAURIE@PATUXENTHABITAT.ORG TO GET INVOLVED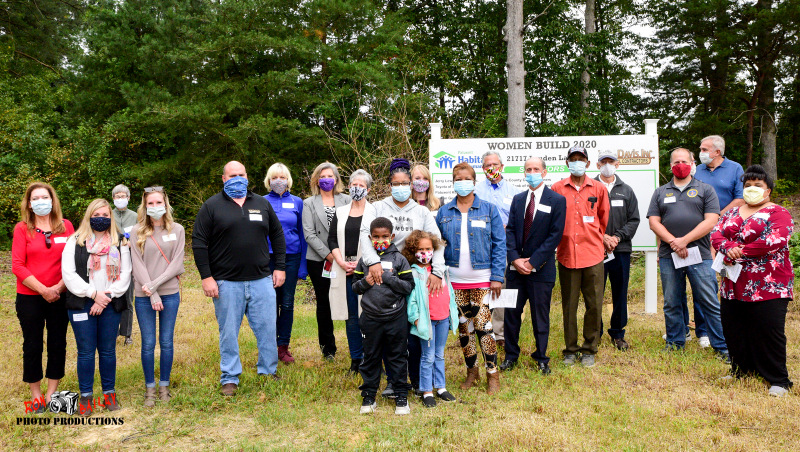 Click Here to see video tour of the house as of March 2021!
Mission Statement
The mission of HFHI's Women Build program is to enable U.S. and International affiliates to recruit, educate and nurture women to build – and advocate for – simple, decent and affordable houses in their communities. Habitat's volunteer program for women who want to learn construction skills, and build homes and communities.
No experience necessary
If you don't have any construction skills, don't worry! Many women come to Women Build sites with no construction skills at all and still make a great impact.Professionals will be on-site to provide instruction and guidance. Volunteer - Call 301-863-6227 to speak with our Volunteer Coordinator.
Since 1991, Women Build volunteers from all walks of life have come together to build stronger, safer communities.
Our Women Build events provide the opportunity for women to take a proactive step in serving their communities.
Women Build opportunities are available across the U.S., and any woman who wants to learn how to build and construct a home is invited to join us. No experience is necessary. Volunteers work under the guidance of construction professionals, and also alongside other volunteers and future Habitat homeowners. Whether you are learning new skills or simply adding a few to your tool belt, this is a rewarding experience for all involved, and improves the community that you share.
Women Build is also a terrific way to involve your friends and family of all ages in crucial work with a lasting impact. Women helping women sends a positive and powerful message. You can also come alone, and make new friends. The atmosphere is collaborative and friendly.
Are you ready to build with us?
There are several ways you can get involved
Learn new construction skills needed to effectively contribute to Habitat's mission.
Build or renovate houses at a Women Build event.
Join other community volunteers and homeowners to build strength and stability through shelter.
We are doing a Women Build this year!
Organize a Women Build event through your campus chapter. Contact us to learn more.
Donate to Women Build.
Habitat for Humanity's International #WomenBuild Week, created in partnership with @Lowes, begins on March 8. This weeklong event highlights the global need for women's access to safe and affordable housing. Learn more. #BuildHer https://www.habitat.org/volunteer/near-you/women-build/international-wom...
Join Habitat for Humanity and @Lowes by using the hashtag #BuildHer during International #WomenBuild Week, March 8-15, to share inspirational stories and advocate for housing affordability.
As part of 2021 International #WomenBuildWeek, Habitat is hosting a live discussion on March 11 about the disproportionate impact of the COVID-19 pandemic on women-led households.
Full details: www.habitat.ngo/womenandhousing
This week is International #WomenBuild Week. Retweet to help spread the message that safe, decent housing has never been more important in supporting women's stability and opportunities. #BuildHer
During International #WomenBuildWeek, Habitat and @Lowes are partnering to raise awareness of the unprecedented challenges women are facing during the COVID-19 pandemic, and how safe, decent, affordable shelter empowers women-led households. #BuildHer
Thank you to @Lowes for sponsoring Habitat for Humanity's International #WomenBuild Week, supporting our local efforts and raising awareness about the global need for women's access to safe and affordable housing. #BuildHer
National Women Build Week History
National Women Build Week is one of the major initiatives supported through the Lowe's national partnership with Habitat.

Women Build is about empowering women and providing them opportunities to use their construction skills while helping to support Habitat's mission. More than 80,000 women from all 50 states have volunteered at the eight previous National Women Build Week events.

Women Build Program

Habitat for Humanity's Women Build program recruits, educates and inspires women to build, and advocate for decent and affordable houses in their communities.

Women volunteers boost Habitat's capacity to build more houses and serve more families. More than 2,300 Women Build houses have been built by all-women construction crews since the program began in 1998.